Update: A new trademark application suggests Samsung may intend to release its next smartwatch under the name Samsung Galaxy Watch, so the Gear name may be dead after all.
We've been anticipating a device called the Gear S4 for over a year and a half now, but instead Samsung introduced us to the Gear Sport at the tail end of 2017 and it's currently uncertain what the next smartwatch from the company will be called.
Both the Gear S3 and Gear Sport have been impressive Tizen-toting watches but whatever Samsung plans to release next, all we currently know for certain is that we don't know anything concrete.
Several futuristic looking patents point towards features that may be included, but nothing is for certain. New rumors suggest Samsung will be focusing on the health, fitness and sleep tracking elements of the watch, plus the company wants to put a big focus on its internet connectivity too.
All of that said we may even see the company opt to release a Gear Sport 2 before the Gear S4, while a new trademark application suggests the company may even call its next flagship device the Samsung Galaxy Watch instead.
You'll find information on all of the patents, rumors, leaks and much more below, along with a list of the things we want to see from the Samsung Gear S4.
Cut to the chase
What is it? Perhaps Samsung's next smartwatch
When is it out? Some point in 2018, maybe in September at IFA
What will it cost? More than most other wearables
Samsung Gear S4 release date and price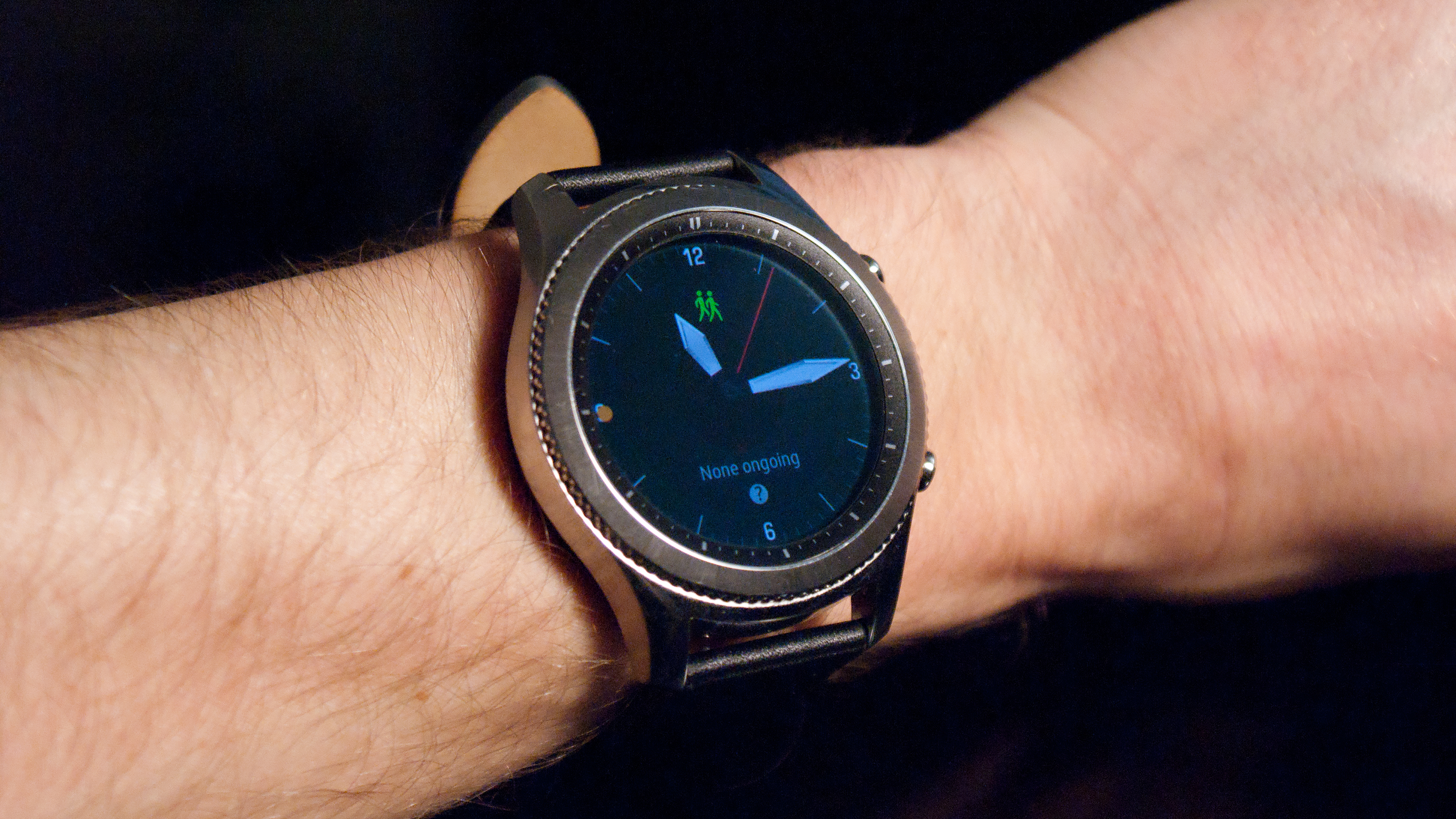 There aren't any release date rumors yet, but we have heard word the company is hard at work on designing the new watch.
Considering the Samsung Gear S3 was announced in August 2016, and the Samsung Gear S2 was announced in August of the year before that, an August 2017 announcement for the Samsung Gear S4 initially seemed likely.
That didn't happen though and instead we got the Samsung Gear Sport. That might mean we're waiting until August of 2018 for the Samsung Gear S4, and IFA 2018 looks to be a good guess of where it'll appear.
This may also mean the Gear S range has been replaced by the Sport title. There's no official news from Samsung yet whether the Gear Sport sits in a separate range to the Gear S line of smartwatches. 
Plus a trademark application in May 2018 suggests Samsung is considering naming a new product the Samsung Galaxy Watch, which may well be this device we thought was the Gear S4. For most of this article we'll refer to the flagship watch as the Gear S4, but it may be the branding will change on the final product.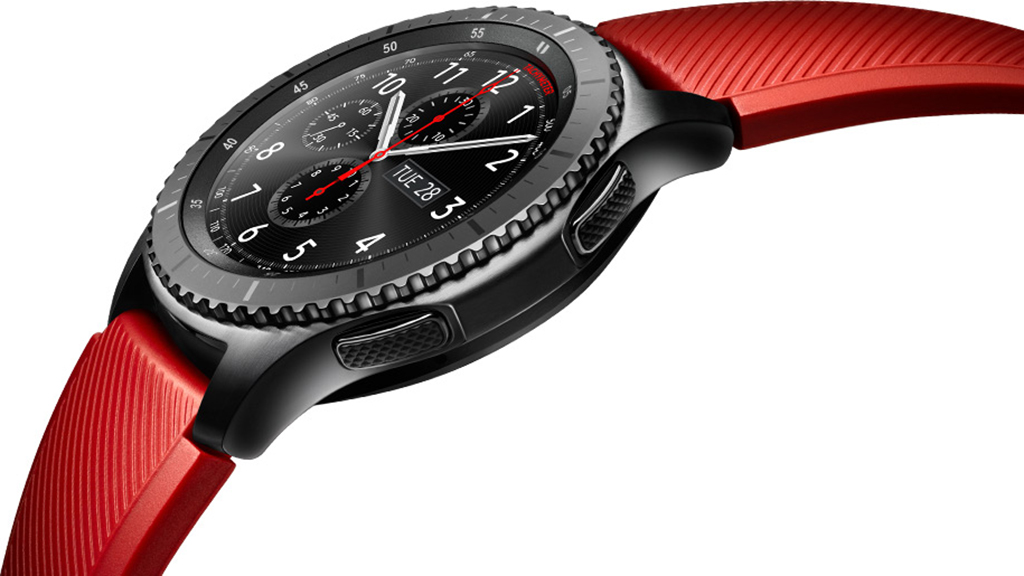 Perhaps the most important leak we've seen so far is from SamMobile that has spoken to a source familiar with Samsung who claims the company is readying the Gear S4 right now.
The source says the device has a model number of SM-R800, which would follow on from the Gear S3 Frontier and Classic that were codenamed SM-R770 and SM-R760. The Gear Sport had the number SM-R600, which would suggest the device Samsung is working on now will be called the Gear S4.
Another story from the same website also said the company is making the watch in the US, which suggests Samsung wants it to be a focus in the America market.
When the next Gear smartwatch launches, it will probably cost a lot. The Samsung Gear S3 started at $349/£349 (around AU$475) and we'll likely see a similar price for the new model, especially as it will be positioned to compete with the Apple Watch 3.
Samsung Gear S4 design and display
Rumors for the Samsung Gear S4 are now starting to pile up ever since we heard word the watch is in development.
One source has said Samsung wants to offer the upcoming watch in two different sizes. According to Samsung blog SamMobile, the company plans to range two sizes and this may be to offer a more appropriate choice for those with smaller wrists and therefore like smaller watches.
You can buy all versions of the Apple Watch in either 38mm or 42mm versions, so it's likely Samsung has seen that success and will want to replicate it in the Gear range.
Little else is known for certain about the design, but we can guess there will be a 1.3-inch display as the company has used that on its previous iterations of the Gear smartwatch. The strap will likely be comfortable for exercise, but there will be other options such as leather for more stylish occasions.
We've seen lots of patents for upcoming Gear smartwatches, so some of these features may be included on the new watch if Samsung is feeling bold and confident in its new tech. 
One patent, spotted by Patently Mobile, shows a Samsung watch with a display built into the bezel. The Gear S3 already has a large bezel that can be rotated, so adding a display could be the next step, but again, being nothing more than a patent we wouldn't count on it appearing on the Gear S4.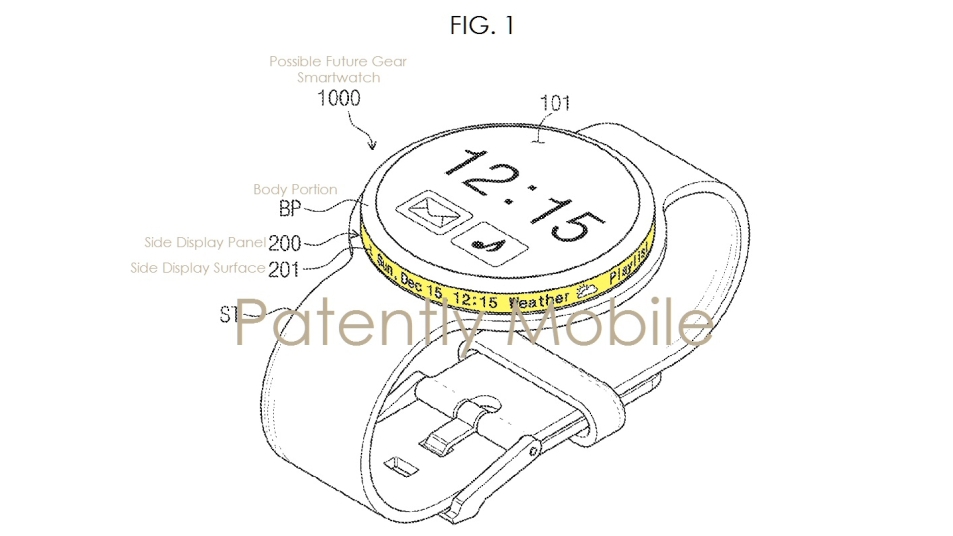 We've also seen a patent for an upcoming Samsung watch that suggests it may include battery tech within the strap.
The diagram provided shows the company wants to include batteries in both parts of the strap and has been experimenting with including the tech inside different materials such as leather, polymer and rubber.
On the topic of straps, Samsung has been working on flexible and curved screens for a long time so it's not surprising that it would extend the idea to a watch strap. 
We wouldn't rely on any of these features being included in the Gear S4 though, as patents very often don't get beyond the idea stage.
Samsung Gear S4 features
We don't currently know anything for certain about the new features the Gear S4 watch will bring, but there are lots of signposts of what we may see.
LTE is set to be a big feature of the watch as we've heard Verizon, AT&T and T-Mobile are all interested in ranging the Gear S4 when it has launched. We don't currently know about any networks or carriers for other markets, but if all three of those US providers are interested, it may be Samsung is including a big upgrade in mobile internet tech.
Back in April this year, SamMobile spoke to a source that confirmed S Health would be getting some big upgrades. One of the focuses for Samsung's improvements will be in-depth sleep tracking, but monitoring your health in general will be one of the main reasons to buy this watch.
Exactly what these upgrades will include, we don't know. One previous patent suggested the Gear S4 (or perhaps even a future Samsung watch) will come with a built-in blood pressure monitor. 
Being able to get this tech right on your wrist is going to be a big ask for Samsung, but a future looking patent suggests the company has an idea on how it can get it working. 
One patent spotted by Russian site 3Dnews talks about a camera with an optical zoom, that oddly seems to be built into the middle of the watch face.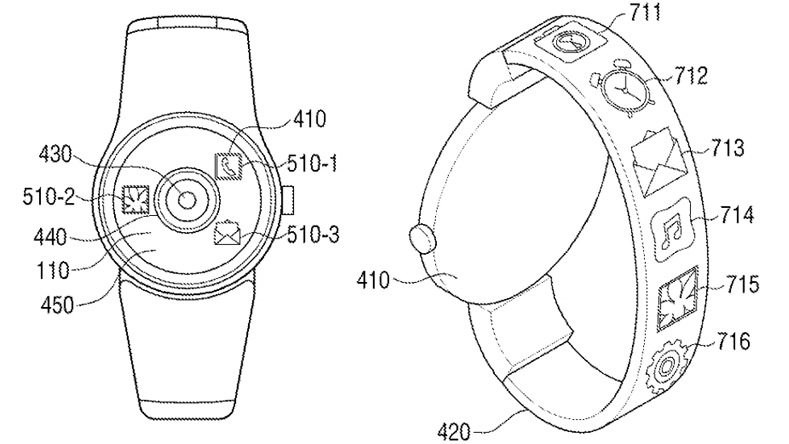 The patent also highlights a strap with a screen on it, giving you shortcuts to your apps, rather than having to swipe through the tiny display on the watch face to find them.
One thing we think is very likely in the Gear S4 is the presence of Samsung's voice assistant Bixby, taking the place of S Voice. Expect to be able to talk to your watch for a lot of the features, but whether you want to do that in public is a different question.
We originally expected Samsung to pack Tizen software onto the Gear S4, but considering the rumored name change to Samsung Galaxy Watch it may be the company will decide to embrace Google's Wear OS for the first time.
Samsung's first smartwatch in 2013 toted the name Galaxy Gear as it ran Android Wear software, but the Galaxy moniker was dropped for the second generation in 2014 when the company used Tizen software instead.
If it's called the Samsung Galaxy Watch, that may mean the company is looking to include Google's software inside. It'd be a big surprise as Samsung has spent the last four or so years building up the functionality of Tizen, but stranger things have happened.
Other features such as the battery and processor specs are all unclear right now, but hopefully we'll hear about that in the coming weeks and months.
Samsung Gear S4: what we want to see
The Samsung Gear S4 is likely to be one of the most exciting wearables of 2018, especially if it incorporates some of the following changes.
1. Make it more compact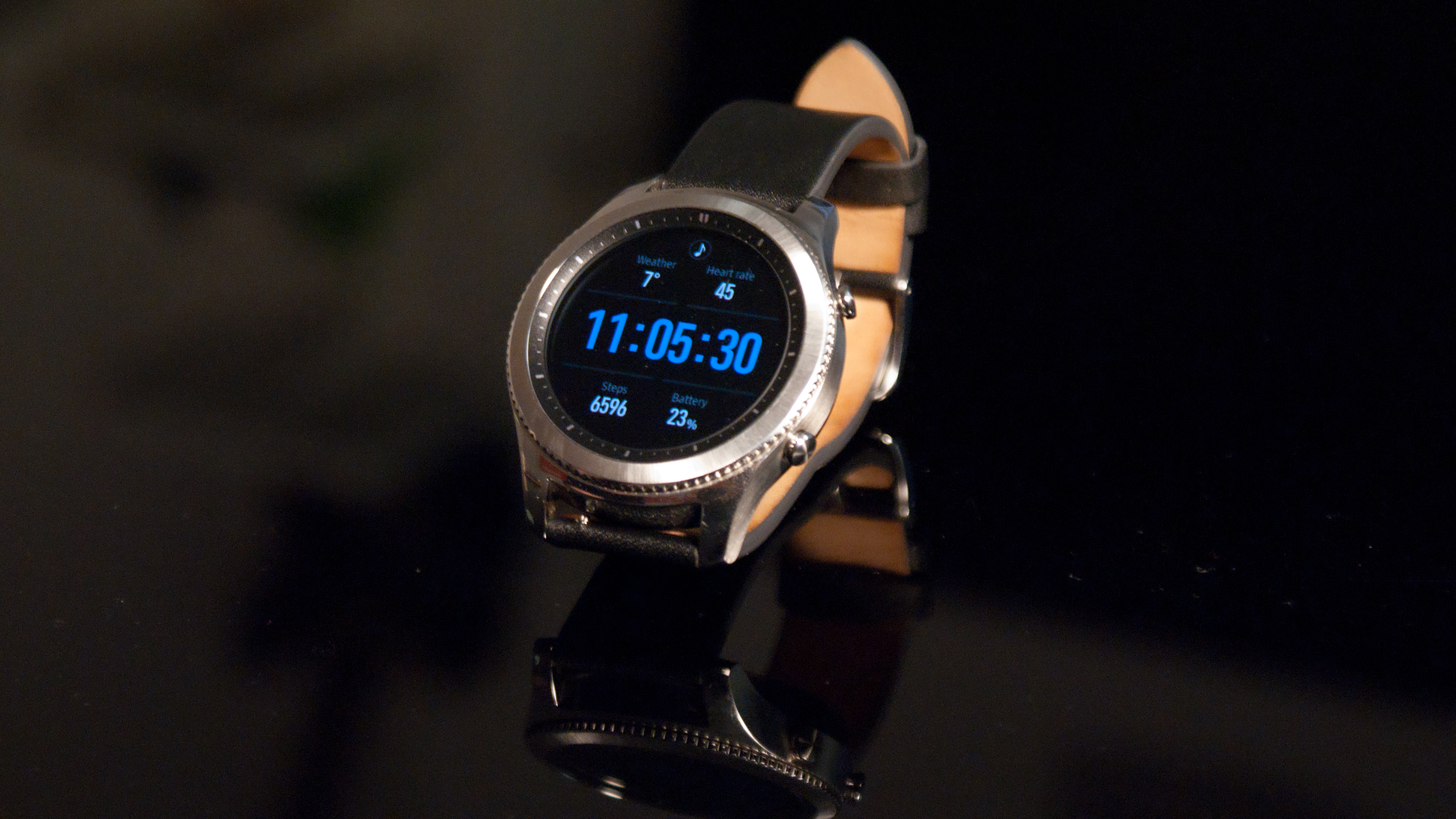 The Samsung Gear S3 is a well-made and generally good-looking device, but it's also rather big, chunky and heavy.
So we'd like the Samsung Gear S4 to be smaller and slimmer on the wrist, as well as being lighter. Or for it to come in multiple models, where at least one is more compact. Some people like chunky wearables, but by no means everyone, and there's a distinct shortage of compact ones.
2. More accurate exercise tracking
The Samsung Gear S3 and Gear Sport are packed full of fitness tracking features, including GPS, a heart rate monitor and automatic workout detection.
But while it can tell when you're working out, it's hit and miss at accurately tracking the exercises. In our review, we found that squats were accurately counted but that lunges and crunches weren't for example.
Similarly, when using GPS it's sometimes almost spot-on, and other times not, making it unreliable, while the heart rate monitor is utterly awful. We want to see improvements to all of these things for the next model.
3. More apps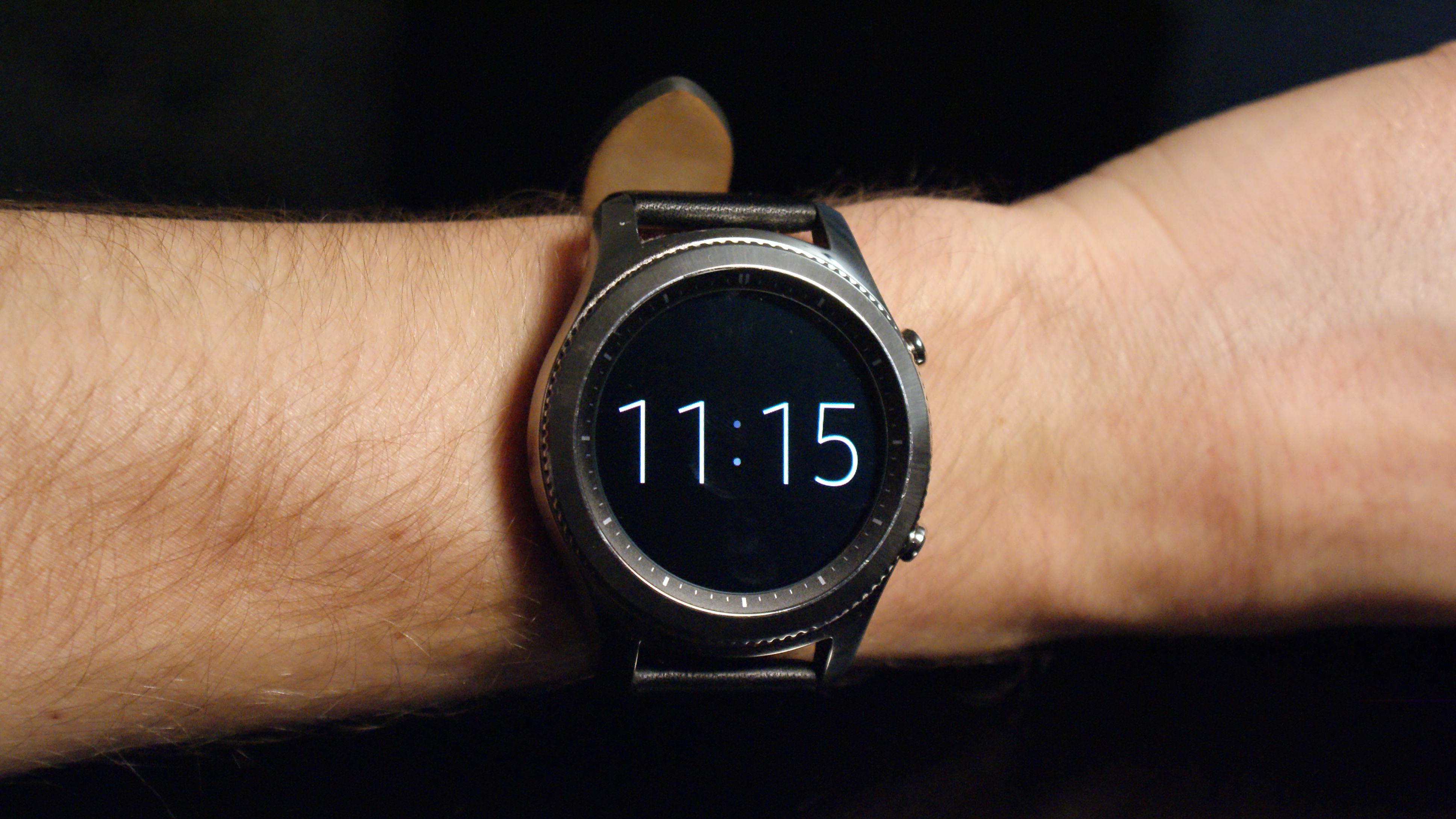 One of the downsides of Samsung's decision to use its own Tizen operating system for the Gear range is the lack of available apps.
We doubt the company will switch to Android Wear for the Gear S4, but one way or another the upcoming wearable needs a much, much larger app selection.
Achieving that while sticking with Tizen might require a major investment from Samsung, to make it worthwhile for developers, so it probably won't happen, but it needs to for the Gear S4 to truly compete with the Apple Watch and Android Wear.
4. Better battery life with Always On Display
The Samsung Gear S3's battery life is generally quite strong, but not if you make use of the Always On Display.
That's a feature which, like on the Samsung Galaxy S8 and other handsets, leaves the screen partially lit up at all times so you can always see the time.
It's vital if the Gear S4 is going to compete with an actual, normal watch, but it's heavy on the battery, so we'd like to see further optimization done for the Gear S4 to make it use as little battery as possible.
5. A lower price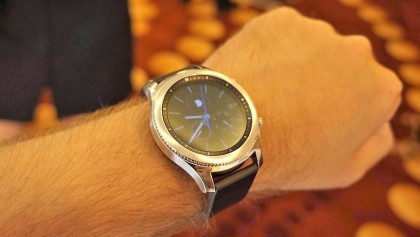 Although the Gear S3 has now dropped to a reasonable price (especially after the launch of the Gear Sport), it started out as one of the priciest smart timepieces available, rivaling the Apple Watch 2.
There's a worry that the Samsung Gear S4 will be similarly expensive, but if Samsung wants it to fly off shelves in serious numbers then a lower price would really help.
6. A real selling point
The Samsung Gear S3 has a lot of features, but no real standout USP, especially given what it costs. Most of its features can be found elsewhere, and sometimes either at a lower price or done better. And even if they couldn't be, they don't feel truly essential. In fact, arguably no smartwatch does as yet.
That's a tricky problem to solve, but hopefully the Samsung Gear S4 will be up to the challenge and include some features that convince us it really is worth strapping an expensive smartwatch to our wrists.
7. A better bezel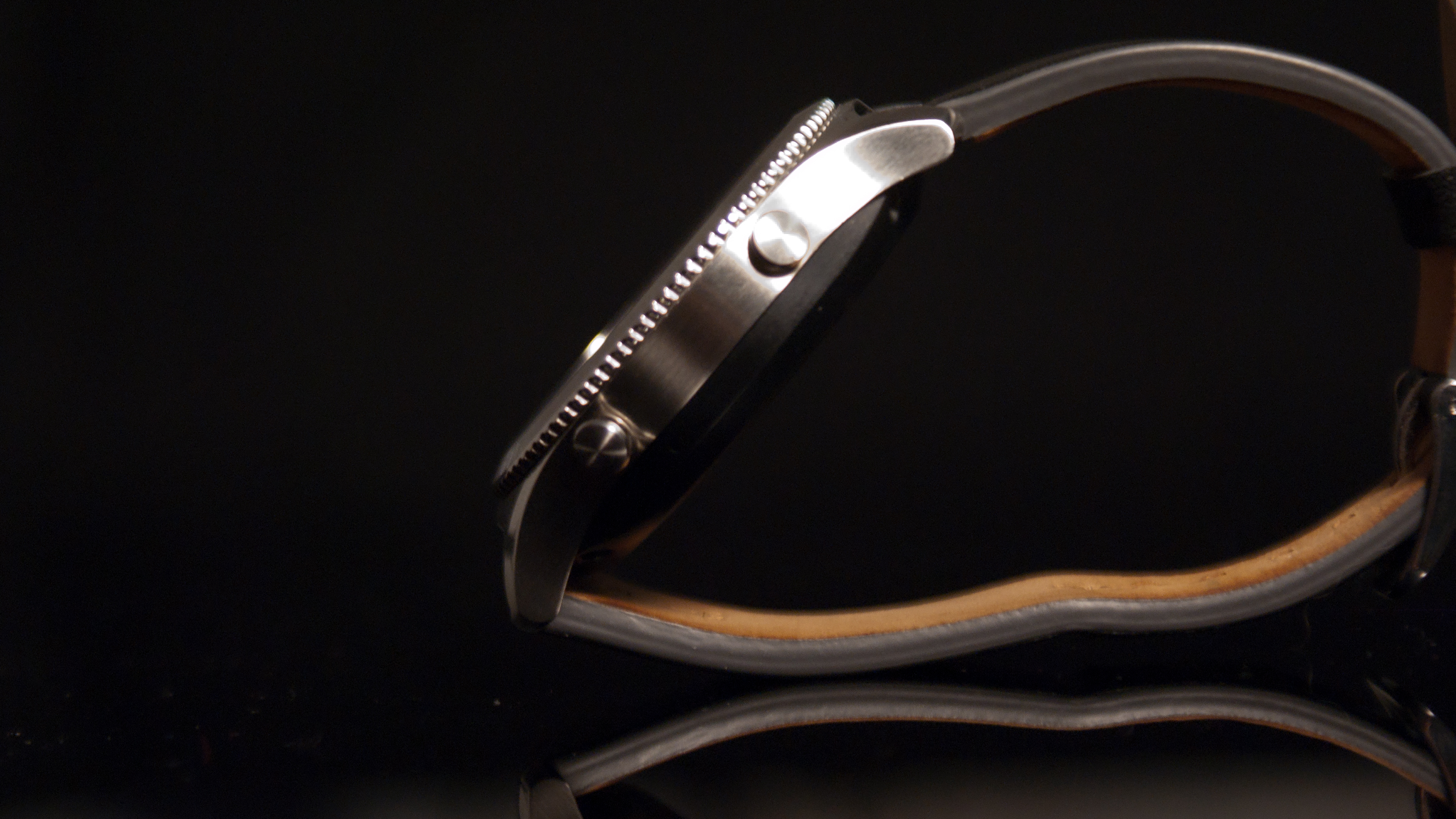 The bezel is one of the best things about the Samsung Gear S3, as it works as a rotatable dial that you can use to navigate menus.
However, there's no hardware confirm button, so you have to tap the screen once you've reached the option you want, which isn't ideal, as switching between the display and buttons for simple interactions isn't intuitive.
So hopefully the Gear S4 will offer more seamless interactions using the bezel. But we'd also like to see the bezel become a little less stiff, so you can comfortably operate it with a single finger.